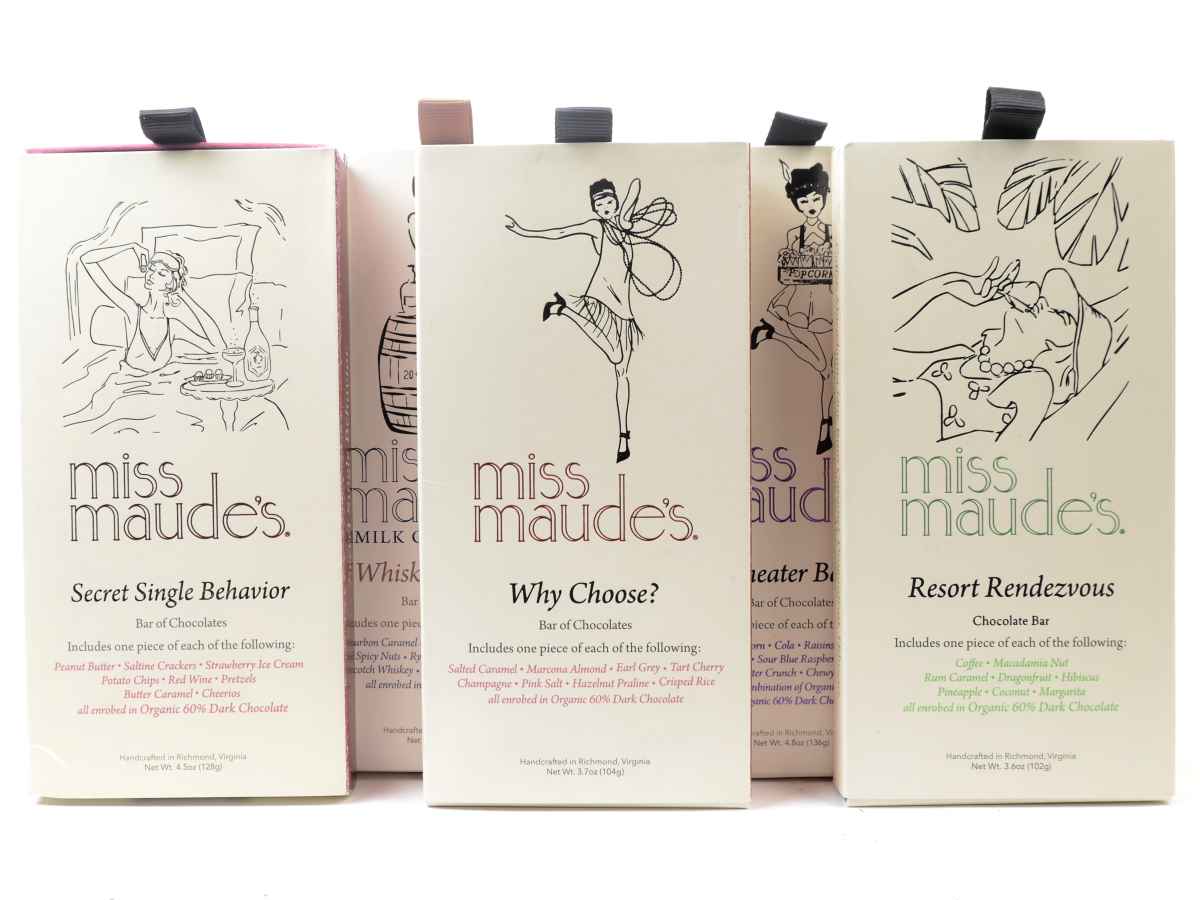 Double click image to zoom in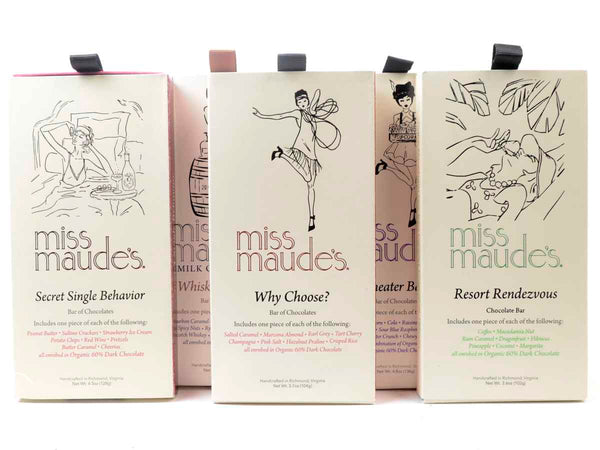 Miss Maude's Bar of Chocolates
Miss Maude's Bar of Chocolates
Available in Organic 32% Milk Chocolate or Organic 60% Dark Chocolate:
Aprés Ski - 

Spiced caramel cider, s'mores, wasabi peanuts, hot toddy, bailey's & coffee, shortbread cookies, cheese fondue, and mulled wine

Secret Single Behavior - 

Peanut butter, caramelized saltines, strawberry ice cream, potato chips, red wine, pretzels, butter caramel, and caramelized cheerios

Resort Rendezvous - 

Coffee, macadamia nut, rum caramel, dragonfruit, hibiscus, pineapple, coconut, and margarita

Theater Bar (milk and dark)- 

Butter popcorn, cola, raisins, peanuts, creamy mint, sour blue raspberry gummies, peanut butter crunch, and chewy caramel

Whiskey Business -

Bourbon caramel, whiskey soaked orange peel, spicy nuts, rye whiskey, old fashioned, scotch whiskey, candied pecans, and mint julep

Why Choose? - 

Arabian salted caramel, spanish marcona almonds, english earl grey, peruvian pink salt, french veuve clicquot champagne, japanese tart cherry, italian hazelnut praline, and southern crisped rice
Miss Maude came of age in the raucous roaring '20s. A Virginia native, she was drawn to the bright lights of Manhattan, where she was dazzled by the big-city life. A thoroughly modern girl, Miss Maude turned her back on her strict Southern roots, and took to swilling cocktails and earning her income modeling the latest fashions.
The suitors came by the dozen, showering the Southern belle with flowers, baubles and bonbons. Desperate to earn her affections, they'd beg to know which were her most favorite. The answer was simple: Miss Maude loved them all. But while diamonds can be a girl's best friend, Miss Maude simply couldn't resist the sweet treats. Biting into chocolates plumped with peanut butter, caramel, praline and cordial liqueur, she felt certain she couldn't ever choose only one.
Determined to find the world's best treat, she traveled on the arms of her suitors to London, Paris, Marrakech, and beyond, opening her palate to the world's most exciting flavors. She fell in love with Devonshire cream, French pastries, and exotic saffron, and gathered a sizable collection of the sweets and spices. When the time came to board her ocean liner back to the States, Miss Maude had just one problem: her steamer trunks overflowed with the edible bounty. Scrambling to squeeze a few tiny bits from the trove into her trunks' pockets and compartments, Miss Maude had a moment of brilliance: she'd craft a chocolate bar full of separate compartments for all her favorite flavors. She would solve her candy conundrum, bringing together an entire box of chocolates in one delicate bar-sized package.
After months of tempering and tampering, she produced a three-ounce bar of rich, silky dark chocolate, with eight squares, each holding a classic delight: Earl Grey, Champagne, hazelnut praline, crunchy Marcona almonds, tart cherries, crispy puffed rice, salted caramel and pink Himalayan salt. Inspired by distant places, festive occasions and the notion that a girl really can have it all, she brought together the best of life in one bonbon-like bar.
Happily settled in Virginia, Miss Maude turned her passion project into a business - Miss Maude's Bar of Chocolates.
Free Shipping on orders of $85 or more.

FREE USPS Shipping at $85.
$10 USPS shipping for orders less than $85.
Ice will be added as necessary.
Upgrade to UPS 2-Day Shipping (+$15) when your high is above 75°F.
Local pick up and delivery is FREE.
Ingredients and Allergens